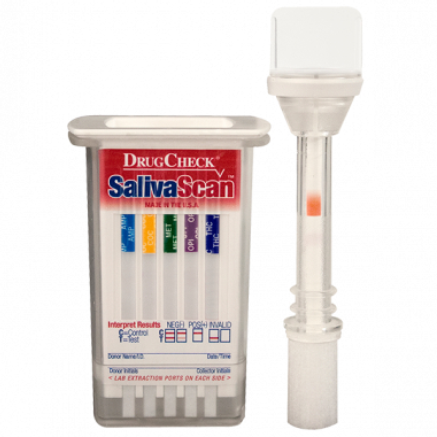 DrugCheck SalivaScan Oral Fluid Test
*Cost per unit - $20.00 + GST (Minimum order qty is 1 box of 25 tests @ $500.00 + GST)
Oral Fluid testing devices are less intrusive than other testing methods. The DrugCheck SalivaScan Oral Fluid Test kit analyses saliva for the main six illicit drugs that have devastating effects in the workplace (THC, COC, AMP, MET, BZO, OPI).
6 Panel Test Kit checks for
THC (found in cannabis); cutoff level - 12 ng/ml
COC (Cocaine) - 20 ng/ml
AMP (Amphetamine) - 50 ng/ml
MET (Methamphetamine) - 50 ng/ml
BZO (Benzodiazepines) - 10 ng/ml
OPI (Opiates) - 40 ng/ml
Saliva tests for drug use are now reliable, affordable and very easy to use.
Using a saliva test kit offers different advantages and drawbacks as well as different practical considerations than using a urine, hair or blood test; here's what you should know about saliva drug testing.

25 Tests Included
Made in USA
Fast and Reliable