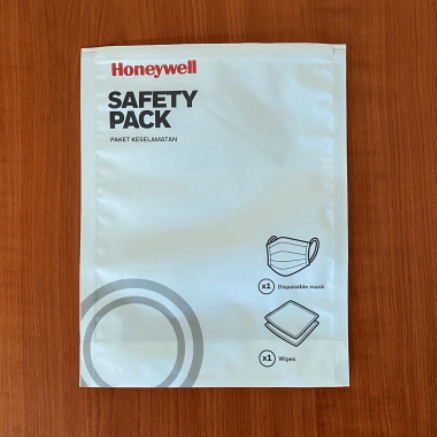 Honeywell Safety Pack #1
ON SALE NOW! Was $2.50 each, now only $1.50!
Honeywell Safety Pack for Businesses across Australia
The Honeywell Safety Pack provides easy access to personal protective equipment for employees, visitors, and consumers at your business premises. Personal protective equipment is one of the most basic ways to ensure industrial safety and with these low-cost safety packs you can ensure compliance with basic safety precautions throughout your workplace and limit the spread of COVID-19 and other contagious illnesses.

Each Honeywell Safety Pack includes 1 x surgical mask and 1 x alcohol wipe for cleaning surfaces in shared spaces.

The widespread provision of safety packs across your workplace will help you to avoid downtime caused by absence due to COVID-19.

Order now to increase confidence and safety at your workplace.

Honeywell Safety Pack #1 (PD/03): includes 1 x surgical mask, 1 x alcohol wipe.
NB: all included items are disposable.